Phono Plug Key Chain
To create the phono plug key chain there are a few things you will need. First, find yourself store, such as Radioshack, and get a phono plug. What you're looking for is the end connector that you would attach to a wire if you wanted to make your own audio cable. There are many different kinds of these: large and small, aluminum or gold plated, and some with plastic housings, ones with strain relievers etc... If you're looking for something a little different, you could also go with RCA, S-Video, or even computer connectors.
Phono Plug:
Once you have chosen your plug, and depending on your preferences, you can use nylon cord, leather cord, string, wire, or other materials for the cord. You should be able to pick up any of those at a craft store. The last item needed is a key ring. The size and type is up to you on this as well.
All that's really necessary at this point is finding a way to secure your cord inside the body of the plug. You will need to unscrew the plug portion from the housing and it's all down hill from there. For my key chain, I decided to use an old knotted yarn bracelet. I pulled the yarn through the strain relief spring using a small piece of wire and then tied the two ends in a knot. I looped the knot over part of the phono plug and crimped the metal together to secure it. After that, I simply screwed the plug back together, slid the key ring onto the cord... and that's it.
My finished key chain: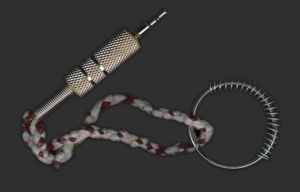 If you want to use other types of connectors, the steps will vary slightly. In addition, if you would prefer something other than a key ring, you could use a longer cord to make a necklace. There are so many possible variations on this that it's entirely up to you. Have fun!