Pin Back Buttons
For some reason, when I was younger, my parents bought a button maker. Okay, so it collected dust and then ended up in a cabinet. However, when I was in high school, I (re)discovered the joy of making buttons. A graphics class I took made buttons for school fundraisers and I ended up making some at one point. This reminded me of the old button maker and, after some searching, I was actually able to find it. The parts we used in class were the same as the ones used by my device and after calling the phone number on the back of a button, I had enough parts to last... well... probably forever.
Tools: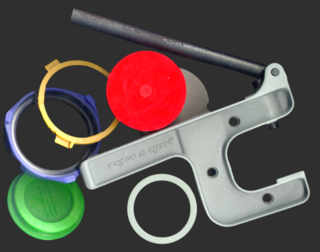 The idea is fairly simple: Create a design, cut it out, put it and the parts into the tool, and squeeze. It's actually a little more involved, but not bad at all. In my last button making endeavor, I created motivational buttons for a management presentation. These things are sick, yet people's reactions were priceless.
Finished Button: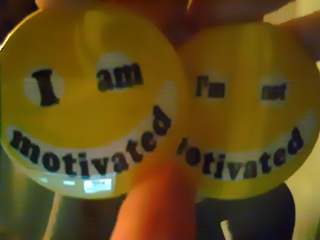 If you're interested in creating your own buttons, visit Badge-A-Minit. They have a small assortment of kits, tools, and parts that will get you well on your way to button making bliss. Parts are fairly inexpensive and the tools range from around $30 for a hand press like mine to over $600 for an automated machine press. I just visited their site and found they now have clear candy color tools. Fun stuff.